Boiled In Lead is:
Todd Menton vocals, guitar, mandolin, bodhrán, whistle
Drew Miller bass guitar, dulcimer
Morris Engel drum kit
Haley Olson fiddle
Celebrating 40 Years of Rock'n'reel
It's been 40 years since pioneering Celtic-punk-folk band Boiled In Lead's first show at the Upper Deck in 1983. With their star still on the wall, BiL roar back after a three-year hiatus with new material and radical rearrangements of old favorites.
Boiled In Lead is the longest-running Celtic punk band in America, and an important part of the foundation of what became Minnesota punk rock. Bob Mould was among those who praised the band's first self-released LP ("Even the fiddles rock,") and the Hüskers invited the band to play an early show at Goofy's Upper Deck. Today, the band's star is still on the wall at First Avenue.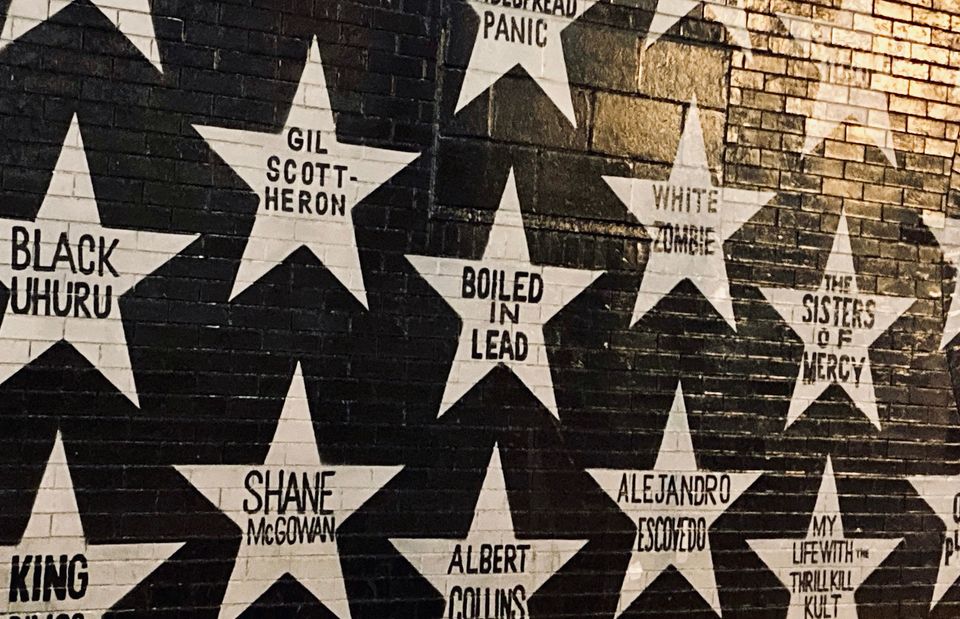 While in high school, bass player and founder Drew Miller became obsessed with traditional folk. He started the band in 1983 to turn the volume up and bring those tunes and songs to new audiences. Following their first LP, he met guitarist / vocalist Todd Menton at an Irish session. With distribution from Twin\Tone, the band was soon playing the First Avenue Mainroom, the Winnipeg Folk Festival; that led to a UK record deal and tours in Europe and around the country. The group and the individual musicians have won many Minnesota Music Awards, and toured throughout the US and in Europe.
Over the years, the band's sound has changed with its membership. Violinist David Stenshoel, who passed away in 2021, pushed the band to expand beyond Ireland to tackle many world folk music traditions. Menton says: "…when we play… the very coolest thing is the tune itself. The original tradition is the power."
Reborn for the band's 40th Anniversary, core members Todd Menton and Drew Miller add drummer Mo Engel and violinist Haley Olson to the lineup, moving forward with a wealthy of new material, as well as looking backward to reframe old tunes.
Enthusiastic, powerful, technically brilliant, playing a wealth of instruments with extreme dynamics, Boiled In Lead routinely demolishes genres with its highly-identifiable sound. An Onion A&E quote describes the band's approach well: "…the prime purveyor of a style of Celtic music infused with punk-rock attitude, developing over the years with a hard-driving swirl that combined Irish folk with heavy rock and elements of styles from all over the world. …one of the best bands Minnesota's ever produced. …even without amplification, Boiled In Lead can summon up furious punk-folk energy."
Todd Menton (vocals, guitar, mandolin, bodhran, whistle) joined BiL soon after their 1st LP, and was the lead singer on the classic albums From the Ladle to the Grave and Orb. After a hiatus, he rejoined the band in 2005. He's currently an instructor at the Center For Irish Music in St. Paul.
Drew Miller (bass guitar) founded the band in 1983. He anchors the low end with a hint of distortion, and sometimes plays solid-body dulcimer. Recently he formed Kinda Fonda Wanda, a high-energy tribute to Wanda Jackson. He has been profiled in Bass Player Magazine. and runs a record store in White Bear Lake Minnesota.
Mo Engel (drum kit) is a versatile Twin Cities music vet. He and Drew found their groove together in Kinda Fonda Wanda. Also a member of Retrofizz, Kings of Cole, and Saddle Sores,  Mo keeps the beat going and chimes in on harmonies.
Haley Olson's (fiddle, vocals) love of traditional music has led her to learn an ever-increasing range of musical styles. She has performed on Lake Superior, in the Smokey Mountains, and other places nationally and internationally.
Wikipedia

"Minnesota's most enduring Celtic punk band is celebrating its 40th anniversary, an occasion worth noting whether on the greenest of days or not. …In 1983, founder/bassist Drew Miller cranked up the volume on traditional Irish folk music and a Twin Cities institution was born. Guitarist/singer Todd Menton has been on board since almost the beginning. Sadly, violinist David Stenshoel died in 2021, but BiL has a guest violinist, a new drummer and the same old spirit."— Minneapolis StarTribune (March 2023)
"…one of the most innovative world beat bands…" – NPR All Things Considered
"…the most important folk-rock band to appear since the 1970s…
required listening…" – MusicHound Folk: The Essential Album Guide (1998)
"…a smoking, surprising, commanding combo… Nobody roars, does a jig
or a Balkan boogie quite like Boiled in Lead." – Minneapolis Star Tribune (1998)
"Boiled in Lead's return is to be greeted with huge applause, mass cheering and flag-waving in berserk fashion." – fRoots (UK)
Press